Opportunity Zones
In December 2017, legislation authored by U.S. Senators Cory A. Booker (D-NJ) and Tim Scott (R-SC) was passed into law after being incorporated into the Tax Cuts and Jobs Act. The "Opportunity Zones Program" is designed to spur economic development and job creation in designated Opportunity Zones.
Opportunity Zones are low-income census tracts nominated by governors and certified by the U.S. Department of the Treasury allowing investors to direct capital into new projects and enterprises in exchange for certain federal capital gains tax advantages.
Governor Phil Murphy worked directly with U.S. Senator Cory Booker's office, convened meetings and round tables with mayors throughout the State to receive feedback and input, and met with the New Jersey Congressional delegation to ensure a fair and transparent selection process. New Jersey Opportunity Zones are located in 75 municipalities, representing every county. The Opportunity Zone initiative will be housed at the Department of Community Affairs.
Opportunity Funds
Opportunity Funds are private sector investment vehicles that invest at least 90 percent of their capital in Opportunity Zones. Opportunity Funds provide investors the chance to put that capital to work rebuilding the nation's low-income rural and urban communities.
Investment Incentives
A temporary tax deferral for capital gains reinvested in an Opportunity Fund. The deferred gain must be recognized on the earlier of the date on which the opportunity zone investment is sold or December 31, 2026.
A step-up in basis for capital gains reinvested in an Opportunity Fund. The basis of the original investment is increased by 10% if the investment in the qualified opportunity zone fund is held by the taxpayer for at least 5 years, and by an additional 5% if held for at least 7 years, excluding up to 15% of the original gain from taxation.
A permanent exclusion from taxable income of capital gains from the sale or exchange of an investment in a qualified opportunity zone fund, if the investment is held for at least 10 years. (Note: this exclusion applies to the gains accrued from an investment in an Opportunity Fund, not the original gains).
Opportunity Zones Symposium with
Governor Phil Murphy and U.S. Senator Cory Booker
This event was hosted by Choose New Jersey on July 16, 2018 at Rutgers University-Newark.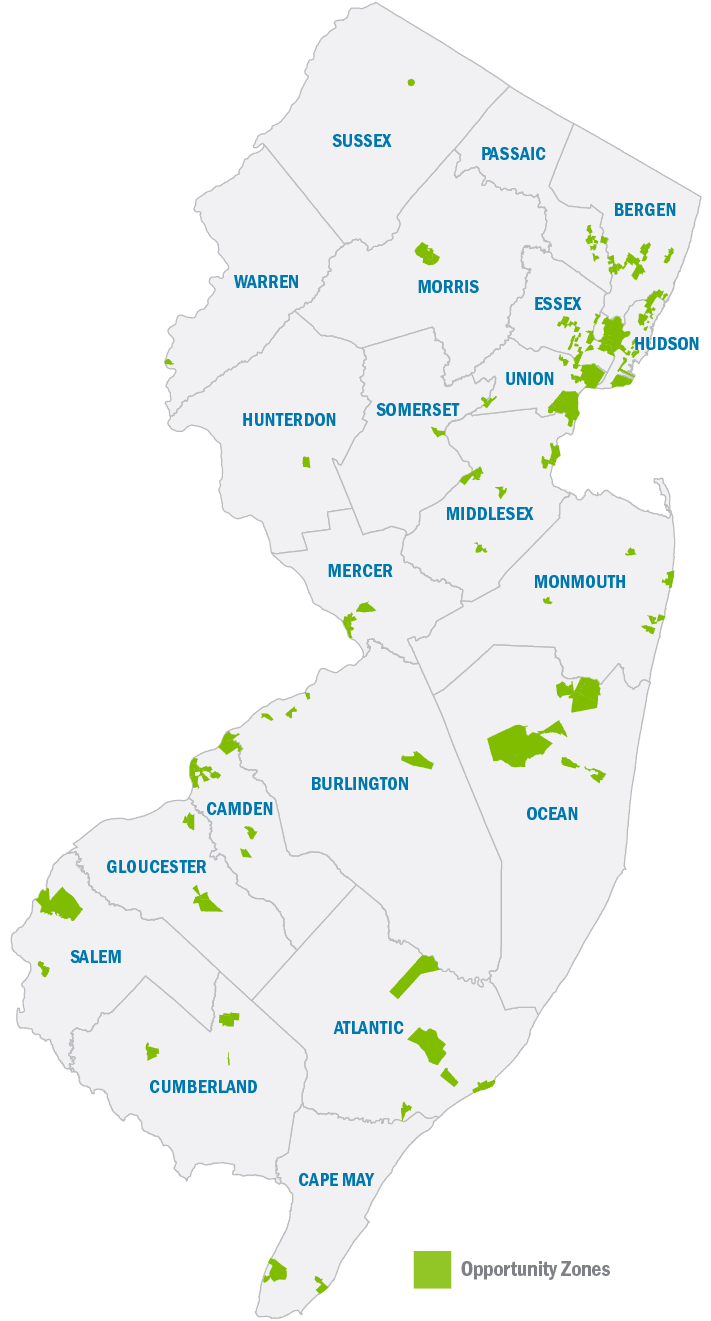 Atlantic County:
Atlantic City
Egg Harbor City
Egg Harbor Twp
Pleasantville
Somers Point
Bergen County:
Cliffside Park
Englewood
Fairview
Garfield
Hackensack
Lodi
South Hackensack
Teterboro
Burlington County:
Burlington City
Palmyra
Pemberton Twp
Riverside
Willingboro
Camden County:
Camden City
Lindenwold
Pennsauken
Pine Hill
Cape May County:
Wildwood
West Wildwood
Lower Twp
Cumberland County:
Bridgeton
Vineland
Millville
Essex County:
East Orange
Irvington
Newark
Orange
Gloucester County:
Deptford
Glassboro
Woodbury
Hudson County:
Bayonne
Kearny
Jersey City
North Bergen
Union City
West New York
Hunterdon County:
Mercer County:
Middlesex County:
Carteret
Jamesburg
New Brunswick
Perth Amboy
South River
Monmouth County:
Asbury Park
Freehold Borough
Long Branch
Neptune City
Neptune Twp
Red Bank
Morris County:
Ocean County:
Berkeley
Lakewood
Manchester
Passaic County:
Clifton
Passaic City
Paterson
Prospect Park
Salem County:
Carney's Point
Salem City
Somerset County:
Bound Brook
North Plainfield
Sussex County:
Union County:
Elizabeth
Hillside
Plainfield
Linden
Rahway
Warren County: