Long before the pandemic, the number of people working remotely has been trending upward. A Stanford study released in June 2020 found that rather than shifting to a 100% home-based workforce, many workers split their time, working a few days at home and spending the remainder in the office. The pandemic-fueled remote-work boom is driving many Americans to find larger, more affordable housing to accommodate home office space. Businesses are also considering adapting their footprint with satellite and hybrid offices to be closer to employees and retain talent. So the question is – where should you go? Of course, everyone has a set of different factors they use to determine if a place is right for them. New Jersey has proved to be a desirable relocation option for many, offering more affordable housing than neighboring New York, fast internet connections, and a flex-work-friendly lifestyle.
Affordable Access with More Room to Grow
New Jersey is ideal for the new era of hybrid work. Many employers are considering moving close to where their employees live to shorten commutes for in-office days, whether that's opening a new satellite office or reevaluating their corporate headquarters location. For many New York City companies, half or more of their workforce already lives in New Jersey. So why pay for an office building that your employees are not working at full time? With the home real estate boom in Northern New Jersey during the pandemic, many families were looking to the New Jersey suburbs for larger, more affordable living spaces better suited for remote work. 
Recently, Beachwood, New Jersey was ranked among the top 50 "The Best Work From Home Cities for 2021" by PCMag which looked at the US and Canadian cities that provide the best balance of affordability, livability, and connectivity. Beachwood is a small riverfront community in Ocean County, home to a little over 11,000 people. With New York City just an hour or so away, Beachwood is the perfect place for hybrid workers. They can get away from the hustle and bustle – but not too far away – and settle somewhere that's safer and more affordable. InMyArea.com also conducted a study on the best remote work cities, ranking Allendale, NJ and Ramsey, NJ as two of the top 10 small cities to work from home in the U.S. Cherry Hill was ranked the best city in New Jersey overall for remote workers.
What Else Does New Jersey Have to Offer?
As many workplaces are shifting to a hybrid work model, New Jersey communities located near NJ Transit commuter rail and bus lines are becoming increasingly attractive. New Jersey also offers a superior quality of life and is consistently recognized as one of the best states for families. Our State's strong digital infrastructure is ideal for remote workers reliant on internet access. What's more, companies looking to experiment with flexible locations have more affordable real estate options.
 The reality is that New Jersey has many great places to support the growing flex work trend. Here's why:
New Jersey is located in the middle of the Boston – New York City – Philadelphia – Washington, D.C. corridor, with easy access to mass transit, including NJ Transit, PATH, PATCO and Amtrak.
7 New Jersey counties were listed in the U.S. News and World Report's Top 500 Healthiest Communities in the U.S., including Hunterdon County and Morris County in the top 25.
New Jersey is ranked the #1 state to raise children with the #1 public school system in the U.S.
New Jersey is ranked #1 for broadband access. Newark has one of the best fiber optic networks in the world, with connectivity of 10 gigabits per second delivered by 26 miles of underground municipal fiber.
Companies can enjoy up to 70% lower costs on their workspace. Class A office space in Jersey City or Hoboken is roughly half the cost of space in Manhattan—$45 per square foot versus $79 per square foot.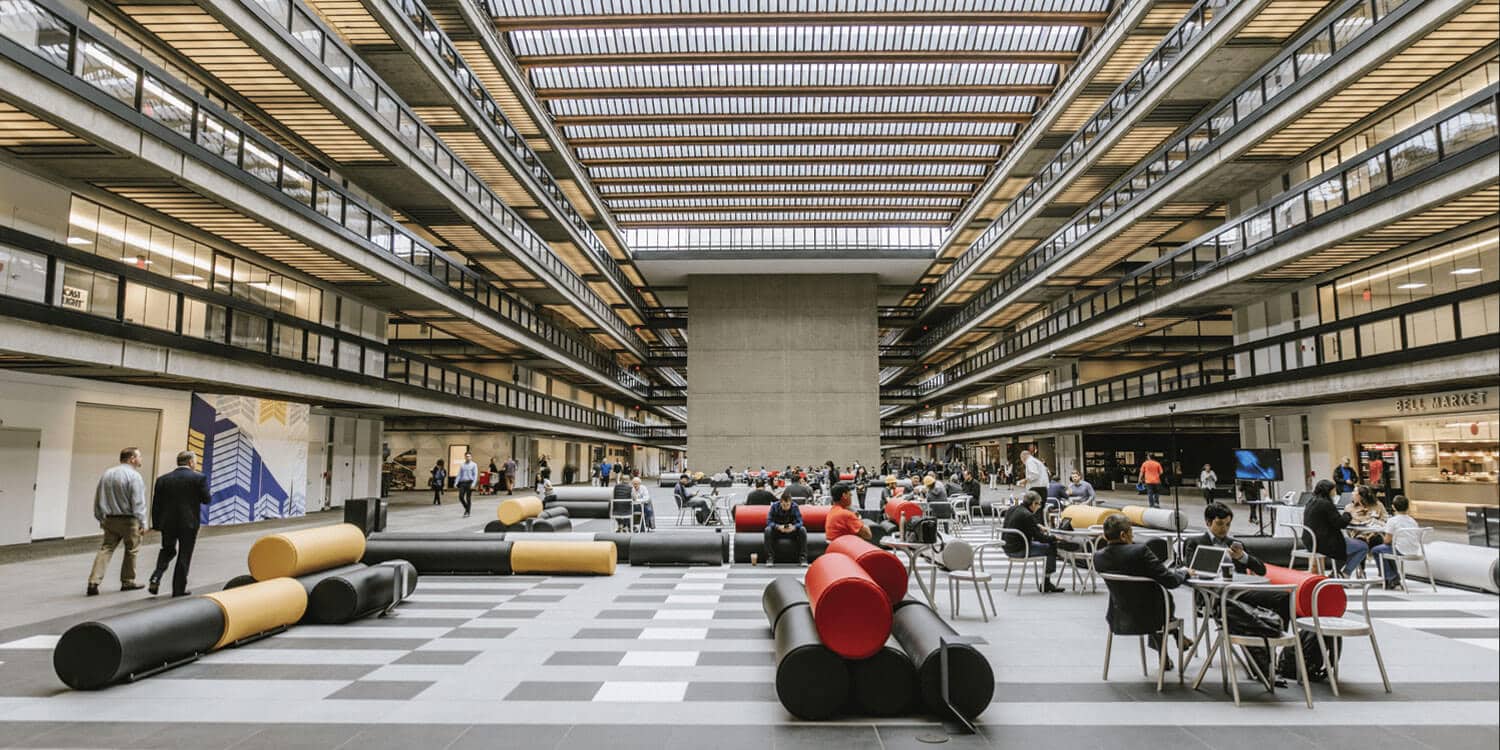 Due to the fear of crowded, non-socially distanced environments and employees looking to reduce commute times, several established and rising companies are seeking out office space on the outskirts as satellite alternatives to their New York City headquarters. New Jersey is likely to be the biggest beneficiary of this trend toward a hub-and-spoke model, especially from Manhattan-based employers. The State's commercial real estate landscape is experiencing a strong resurgence of suburban office parks, as well as co-working spaces and innovation hubs. One key factor that differentiates the New Jersey waterfront and suburban office markets is access to a highly educated and diverse workforce. The following real estate projects are part of New Jersey's larger-scale plan to develop live, work and play communities that enable established businesses and startups alike to grow in New Jersey.
1. Bell Works
Bell Works, the reimagined former Bell Labs campus, offers pre-finished turnkey spaces in Holmdel, NJ. The unique site, which also features 110,000 square feet of public space, saw 210% employee growth in the last year and is now home to 49 companies. Bell Works will also soon incorporate a 200-key rooftop hotel to help further bolster a mixed-use environment. 
2. M Station at Morristown
SJP Properties has started the build-out of M Station at Morristown, replacing the Midtown Shopping Center and surface parking lot just steps from Morristown's NJ Transit station. The two-building development will add a total of 275,000 square feet of Class A office space and 33,000 square feet of retail space to the neighborhood. Expected to be completed by Fall of 2022, financial and consulting giant Deloitte will take approximately 110,000 square feet in M Station's East building.
3. The HUB
The HUB, scheduled to open in downtown New Brunswick in 2024, will be a new collaborative site designed to foster research, entrepreneurship, innovation, and startup incubation in New Jersey. Rutgers University, Princeton University, RWJBarnabas Health, and Hackensack Meridian Health were announced as the first tenants of this ten-story, 210,000 square foot building with mixed-use non-residential space. 
4. The Cove JC
The Cove JC, a joint venture between Argent Ventures and H&R REIT based in Jersey City, will encompass more than 13 acres, comprising 1.4 million square feet of lab/office space and 1.6 million square feet of residences. This will become the premier flagship destination for academic and commercial life science, tech, and medical entities in New Jersey and the Greater New York Metropolitan Area. The campus will be developed in multiple phases, starting in 2022.
Work, Live, and Play in New Jersey
New Jersey offers all the access to New York City, but at a more affordable cost and with more room to grow – for businesses and families alike. Choose New Jersey is a privately funded economic development organization, providing complimentary relocation and expansion services to stimulate job creation and attract capital investment to our State. Contact us today to learn more about how we can get your business set up for success.
Fill out the form to learn more about what New Jersey has to offer.
Once the form is complete, you'll get access to guides for your industry and a representative will contact you with additional details.